Indoor Outdoor Nerf Battles. We Bring the Nerf to You!
314-518-4436
Our Nerf Facilities are all outdoors!
Nerf Warz: Unleashing Foam-Filled Weekend Fun! – Indoor / Outdoor Nerf battles.
Indoor Outdoor Nerf Battles.  Welcome, first and foremost, to the ultimate experience in foam warfare! Importantly, our Nerf Warz service significantly elevates your weekend plans to an entirely new level by uniquely offering Nerf battles complete with inflatable obstacles. 
What Makes Our Nerf Battles with Inflatable Obstacles Unique
Believe it or not, our Nerf battles are not merely your typical run-of-the-mill foam fights. On the contrary, they come specifically and thoughtfully equipped with inflatable obstacles, thereby providing a truly immersive and unparalleled experience. Most importantly, and indeed it's certainly worth noting for your planning purposes, these particularly exhilarating battles are exclusively and only available on Saturdays and Sundays!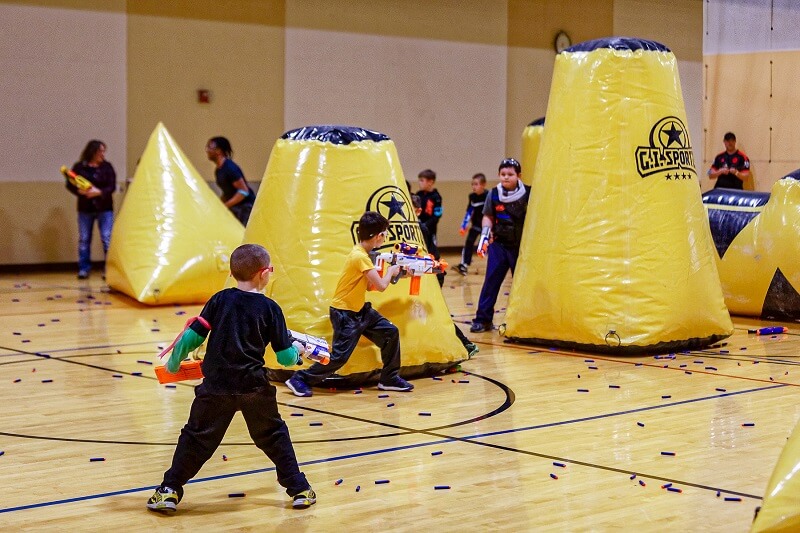 Venue Options: Nerf Battles with Inflatable Obstacles Your Way.  
While our primary facility is, indeed, chiefly situated outdoors, you undoubtedly have, without a doubt, the flexibility to rent our inflatable obstacles. Moreover, and this is crucial, you can opt for either indoor or outdoor setups at your very own location. That's right! To put it another way, or to clarify, we bring the Nerf battlefield directly to you.
Hours and Booking: Weekend-Only Nerf Battles with Inflatable Obstacles
Please, take note that our services are, in fact, exclusively available on Saturdays and Sundays. After taking that crucial detail into account, you'll find that the booking process is, to sum up, remarkably simple. Firstly, choose your package. Then, to clarify, provide your location, and finally, to conclude, let us handle the rest.
Bring Your Own Gear, Use Our Darts: Rules for Nerf Battles with Inflatable Obstacles
At our Nerf Warz events, safety and fun truly, indeed, go hand-in-hand. To begin with, we require all participants to bring their own Nerf guns. However, please take note that no outside darts are allowed. Instead, to clarify, we provide the ammo ourselves to ensure both quality and safety.
Nerf Warz 1
Wacky Warriors Wentzville
Saturdays & Sundays Only

1 Hour

10 – 20 Players

500 Darts

We do not supply Nerf Guns.  Must bring your own.

Outdoor Facility/standard bunkers
Nerf Warz 2
Wacky Warriors Wentzville
Saturdays & Sundays Only

1 Hour

21 – 40 Players

1000 Darts

We do not supply Nerf Guns.  Must bring your own.

Outdoor Facility/standard bunkers
Nerf Warz 3
Wacky Warriors Wentzville
Saturdays & Sundays Only

2 Hours

10 -20 Players

500 Darts

We do not supply Nerf Guns.  Must bring your own.

Outdoor Facility/standard bunkers
Nerf Warz 4
Wacky Warriors Wentzville
Saturdays & Sundays Only

2 Hours

21 – 40 Players

1000 Darts

We do not supply Nerf Guns.  Must bring your own.

Outdoor Facility/standard bunkers
Nerf Warz 5
At your Facility
$
800
/

Call to Book as Price May Vary
Indoor or Outdoor

2 Hours of Play

Includes Safety Glasses

Includes Darts

We do not supply Nerf Guns.  Must bring your own.

 Inflatable bunkers