Wacky Warriors Paintball East – Millstadt, IL
Millstadt, IL Paintball.  Before you book, keep in mind that our MILLSTADT IL field is closer to such towns as: Clayton, Kirkwood, Webster, Richmond Heights, U. City, Fenton, Arnold.
Address:
3908 Mine Haul Rd
Millstadt, IL 62260
Hours:
Mon-Fri: Closed
Sat-Sun: 10am-5pm
Discover the Thrill of Paintball at Wacky Warriors East in Millstadt, IL
Embark on an adrenaline-fueled adventure at Wacky Warriors East, the ultimate paintball destination nestled in the heart of Millstadt, IL. Since our establishment in 1993, we've been committed to providing an unparalleled paintball experience for enthusiasts and newcomers alike.
Why Choose Wacky Warriors East? 
At Wacky Warriors Millstadt IL Paintball, we understand that paintball is more than just a game—it's a way to challenge yourself, bond with friends, and create unforgettable memories. Here's what makes our Millstadt, IL Paintball location your go-to paintball field:
Variety of Themed Fields: Engage in intense battles across our diverse themed fields, including the fast-paced 'Brickyard', strategic 'Mounds', challenging 'Shipment', and our crowd-favorite 'Spools' field.
State-of-the-Art Equipment: Equipped with the latest in paintball technology, our gear is meticulously maintained for performance and safety.
Family-Friendly Environment: Paintball is a sport for everyone. We've created a welcoming atmosphere that caters to players of all ages and skill levels.
Events and Parties: Looking to host a birthday bash, corporate team-building, or a stag party? Wacky Warriors East offers custom packages to make your event a hit.
Expert Staff: Our experienced and friendly staff are passionate about paintball and dedicated to ensuring you have a safe and thrilling experience.
Facilities to Enhance Your Visit
We pride ourselves on offering facilities that complement your paintball experience, including:
Full-Service Pro Shop: Stocked with all the essentials and more, our pro shop has everything you need for a day on the fields.
BBQ Grills and Picnic Areas: Refuel and recount your in-game heroics at our BBQ and picnic areas.
Covered Pavilion: Take a break from the action and relax in the shade of our pavilion.
Millstadt, IL Paintball  – Join the Community
Wacky Warriors East isn't just a place to play paintball; it's a community where you can grow, learn, and share your passion for the sport. Participate in our regular events, join our leagues, or just drop in for open play on weekends.
Planning Your Visit
We're open every Saturday and Sunday from 10 AM to 5 PM, ready to welcome individual warriors and groups. To ensure your spot, we recommend booking in advance, especially for larger parties.
Start your Wacky Warriors journey today and unleash your competitive spirit at Wacky Warriors East—where fun meets the field.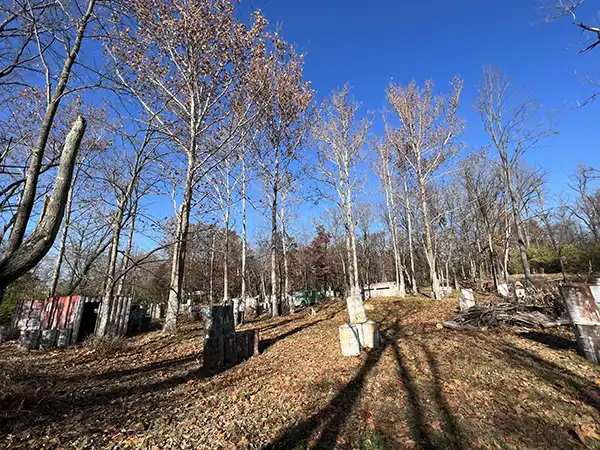 Additional fields not yet displayed
Before you book, keep in mind that our WENTZVILLE MO field is closer to such towns as: Euerka, Washington, Florisant, and Ladue
Home of the Midwest Bandits
Frequently hosting other teams for practice and scrimmages